Monday, November 29, 2010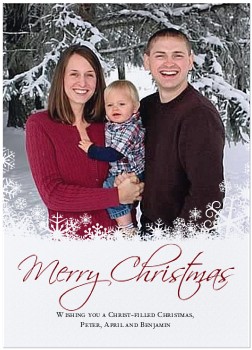 Starlight Snowflakes Christmas Card

Posted by April
at 10:42 PM
No comments:

We had a wonderful Thanksgiving with both sides of our family this year! We're really blessed to be able to see them so often and we don't mind (terribly) the 8 hour drive home to see them.
Except this year.
Original plan was to leave Wednesday at noon. Modified to leave after work Tuesday. When we woke up to snow resulting in a snow day off work for Peter, we decided to finish packing really quick and take off.
7am - 9am: I pack really quick, we get Benjamin fed/ready and load the car. We also ask a lady in our church to cook a turkey for a friend of ours since we were leaving early and wouldn't have time. A bit of a crazy busy morning but we were excited for the early start!
Benjamin loved watching the kids play in the snow through the window
"if only I was big enough to play with those guys!" he thought
Benjamin's first snow at our house :-)
All ready to get in the car for our trip.....completely unaware of the traffic toils to come!
9am - take off and drop off the turkey to be cooked
9:30am - decide the roads are really slick and snowy and we really need snow tires. Benjamin has fallen asleep in the car so we drive home (1/2 mile away) and I wait with Ben in the car while Peter looks for snow tires on craigslist, etc.
10:30am - go to wrecking junkyard 1/2 mile from our house for great deal on snow tires and to have them put on. Ben and I wait in the car for most of the time since it's really cold outside.
11:30am - finally leaving for Idaho!!
1:00pm - stop at Panera's in Portland for a yummy sandwich/soup lunch
4:00ish pm - arrive at the Dalles, OR and come to a complete stop in traffic
6:30ish pm - we are moving now, but very slowly. We have gone maybe 3 miles in the past 2 1/2 hours because of a semi truck accident that blocked both lanes on I-84.
7:00pm - stop at McDonalds for dinner (so did everybody else that waited in the traffic jam since it was the first fast food available)
8:00pm - Benjamin starts to get a bit fussy because he's tired and tired of being in a car seat. After realizing that we wouldn't get into Moscow for another 3 1/2 hours and would have to drive in snowy conditions at night we call around to find hotel prices (hotels all around the traffic jam were booked!) We get a good deal at a Comfort Inn in Kennewick, WA and decide to go for it after lots of debate.
9:30pm - arrive at the hotel and are soooo excited to get out of the car after 12 hours!! We were all in bed by 10:30 and even though Benjamin didn't sleep great it was really nice to be in a bed and not in a car for another 3 1/2 -4 hours that night.
The rest of the story is: lazy breakfast at the hotel, drive 3 more hours to get to Idaho, cheer when the trip is over!!
We arrived to a VERY excited Aunt Amanda, Nana, and Grandfather. They were awaiting the arrival of our little guy :-) To say he's spoiled with love, attention, toys and food while visiting there is an understatement!!
his favorite toy of the week was the Fisher Price phone my Dad got for him!
tackling his Floppy
I wonder if he enjoyed all the attention???
his Aunt Amanda showed him how to finger paint for the first time :-)
his picture is now hanging on my fridge, so cute!
his first sugar cookie
Aunt Amanda and Nana teaching him how to use a spoon
who needs a spoon, just gulp it down
Amanda tries to get him to pose for her (she was awesome and played with him so I could sleep another hour, love ya Sis!)
hey, if I look really cute will you tell me what you bought me for Christmas Nana?
aw, come on....why do I have to wait to find out!
Benjamin was mesmerized with the train Grandfather set up around the Christmas tree
Cousin Alexander came over to play!
it is just non stop fun at this house!
Wednesday we mostly vegged and caught up with one another. Alan and Natasha came over to make sugar cookies! We made a quick 15 minute stop at the mall but that was it. The next day was Thanksgiving and the whole Malgren side of the family was coming over!
Dad, Amanda and Mom worked really hard to prepare a tasty spread for all of us. There was 1 great-grandparent, 2 grandparents (3 if you include Hannah's mom), 3 sons, 2 daughters, 1 son-in-law, 2 soon to be daughter-in-laws, 2 grandsons, 1 granddaughter and a partridge in a pear tree :-)
as you can see by his high chair I'm thinking Thanksgiving is his favorite holiday so far!
Alexander and Azalea aren't quite old enough for the food....maybe next year!
Hooray for cousins! Alexander, Azalea and Benjamin
Aaron, Hannah & Azalea
Alan, Natasha & Alexander
the whole family together!!
4 generations!
I love my siblings!
these are some mighty proud grandparents (now if only we could get Nana and Grandfather to look at the camera too....they couldn't stop admiring the kiddos long enough to look!!!) :-)
Friday morning we headed to WalMart around 9am to check sales but didn't get anything. Then we were off to go see the Klingler side of the family!!
I'm soooo terrible because I don't have any pictures to post of the Thanksgiving dinner that Mom K made for us. I took pictures but with their camera so I don't have an copy to post. Maybe I can scan in the copy they printed for me or get them to email it to me? It was delicious as always though and we loved spending the afternoon together. Fat and happy seems to be my memory of that day :-)
After Benjamin's nap we headed down to Lewiston to run a few errands and look at the Christmas lights they have in a little park. I've driven past it several times before but never stopped so I was looking forward to it.
Benjamin had a great view from Poppy's arms
there were lights everywhere, it was so fun! I'm glad I didn't have to set them up, ha.
Benjamin with the dancing penguins
and he's off......a common theme these days!
standing in front of the igloo
we ended the night by exploring the train
Benjamin was soooo mesmerized by all the lights and the people, he hardly made a sound. It was a fun evening, thanks for taking us Poppy & GongGong.
It may have taken us 16 hours to get there but it was so worth the drive. We love Thanksgiving dinner (and the fact that we get 2 of them!!) but we love our families more. We have so much to be grateful for this year and feel so blessed. Happy Thanksgiving :-)
Posted by April
at 10:28 PM
No comments:

Monday, November 22, 2010
I really shouldn't be blogging but whatever! I'm going to take 5 minutes to blog and finish my coffee from this morning :-) I've been having a bit of insomnia lately so it was nice to finally get some sleep (even if I didn't fall asleep until 12:30) because our little guy slept until 10:00!!!!! I couldn't believe it. He was sooo wiped from only having one nap on both Saturday and Sunday so he was playing catchup. Which meant Mommy could play a bit of catchup too, hooray!
Yesterday we spent the day enjoying a BOGO Starbucks holiday drink, that was an awesome promotion! We played with Benjamin and enjoyed a day at home. He was in such a great mood yesterday and we had a blast playing with him. Here's a pic of Peter reading to him all cozy by the fire.
Later in the afternoon I took care of Benjamin while Peter worked on our tile project. He was super nervous to actually cut the tile but once the first cut was complete, he felt so much better. I'm proud of him for taking on something new and doing so well at it. Here's where we're at now with the project.....the tile has all been cut and "mapped out". Tonight Peter is going to make sure the screws in the wonderboard are nice and even, then it's time for mortar, lay the tiles, and finish with grout. Don't know if it'll all get done tonight but it's really coming along and I love it!!
Isn't the tile pretty? So much better than what was there before.
Today has been great so far. Just doing laundry, cleaning, picking up, etc and entertaining Ben. It's so hard to want to clean the house because he's sooo fun to play with. So I give in a lot and just get down on the floor and try to get this goofy guy to give me his goofy smile!
Speaking of goofy, here's a pic from Sunday night after a little snack. He didn't even realize it was stuck to his nose, too funny!
HA HA HA!
Okay, now I really must go because I have a lot to clean, pack, catch up on.....oh, and a shower would probably be nice too! Yes, I realize it's almost 2pm and I haven't showered. Don't judge :-)

I'm super excited because we decided to leave a bit early to head to Idaho for Thanksgiving and we're leaving Tuesday after work instead of Wednesday afternoon. I'm looking forward to seeing our families!!!
Posted by April
at 1:52 PM
No comments:

Saturday, November 20, 2010
Today has been a great Saturday. The kind where you feel tired at the end but only because it's been a full day of fun and productivity. We had a lazy breakfast then I went to Albany to run a few errands while Ben napped. It was great because I was really able to catch up with my Mom...I love that! We can't wait for Thanksgiving next week when we'll get to see our families.
This afternoon we had a Community Thanksgiving dinner at our church. Everyone worked really hard to put together an amazing spread of food, with great decorations, etc. It was yummy stuff and we had a lot of our regular church members come and also a lot of members from the community, which was awesome!! It was a great opportunity to meet and talk with new people who may or may not know about Jesus, and to be able to just share life with them.
Since it was at 3:00 Benjamin didn't really have an afternoon nap but he did really good despite that. He enjoyed the food (of course!) and had a grand old time playing with the kids. The teens love him and are always anxious to hold him and take care of him. If they insist!!! I didn't get any pictures at the actual dinner but here's the little guy afterward.
he's looking so old!
we wore name tags at the dinner, and our pastor made this one for Benjamin.
"Benjamin the Magnificent" :-)
We came home and played for a bit, gave Benjamin a lite dinner and then gave him a bath. He was loving bath time tonight as is obvious in these pictures....
I can't believe how big his teeth are getting!
Now, I've been working on getting Benjamin to clap for a little while. He loves to watch me do it and thinks it's funny but he's never actually done it. Until tonight!!
We wrapped him up in his towel after bathtime...
dried him off, then let him admire himself in all his glory. He must have thought he was looking pretty good because he started clapping!
He kept clapping and clapping and it was so fun to watch him finally learn this new skill!
Well, after the clapping he seemed so wired that we gave him a little crib playtime before his bedtime bottle. He literally jumps up and down in his crib and finds great delight in it. He is such a busy, busy crazy man.
Bouncy, Bouncy, Bouncy!
We finally convinced him to stop playing so he could drink his milk and go night-night....but even after that he was still a crazy man and we could see him going a little nusto on the monitor. 20 minutes later he fell asleep and will (hopefully!) give us a good night of sleep tonight.
Hope you had a fun Saturday too!
Posted by April
at 9:16 PM
No comments: